Former Formula 1 boss Eddie Jordan visited Sunseeker based in Poole, Dorset this week to be given the guided tour of his brand new 155ft super yacht, Sunseeker's largest commissioned yacht to date.
The £32 million, 155 ft yacht took three years to complete. Jordan said: "This dream is probably seven or eight years old in my head. I am a big fan of Sunseeker. I cannot tell how much of a fan I am. They are just a fabulous brand, fabulous family and a great workforce."
"This boat has taken Sunseeker as a brand and British shipbuilding in general to a new level, and it gives them a great opportunity now to roll this out and sell it all over the world."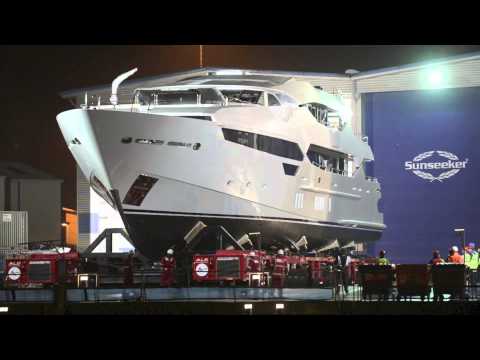 The yacht will be available for hire for a reported one million pounds a month. Weighing 200 tonnes, it has a top speed of 22 knots or 25mph.
Stewart McIntyre, Managing Director at Sunseeker said: "This is an extremely exciting time for Sunseeker as we inch ever closer to the completion of the 155 Yacht." 
"This is the biggest project we have ever undertaken and since the announcement of its build it has been the talk of the industry. We are incredibly proud of what we have created and look forward to showcasing it to the world."
Jordan plans to sail the yacht to Monaco in time for the Grand Prix in May.