Konstantin Chaykin, Russia's luxury watchmaker unveiled 'The Cinema Watch' at Baselworld 2013 recently. It features the first ever animation complication for a mechanical watch which launches automatically at 6:00. It shows a short film of a galloping horse and rider by embedding images on an animation disc which spins at a rate of one frame per 0.07 seconds as shown in the video below: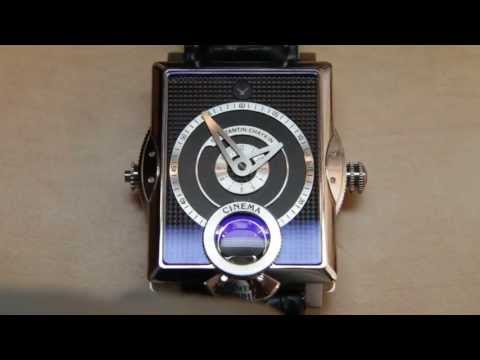 The watch commemorates legendary photographer Eadweard Muybridge who in 1879 invented the zoopraxiscope device which gave birth to the first cinématographe camera some 20 years later. The Cinema Watch animation pays homage to a similar sequence which was the first to appear on the zoopraxiscope and is arguably the first film ever made.
Its square steel case is designed to resemble an antique photo whilst the dial is an imitation of an antique camera lens. For anyone with a passion for the art of motion pictures, an interest in its origins and an appreciation for finely crafted horology, The Cinema Watch ticks all the boxes.
For more information, visit the website.